Vacuvox U23 compressor limiter

The Vacuvox U23 vari-mu compressor limiter builds upon the legacy of the Vacuvox CL-2 for which the Rohde & Schwarz U-23 broadcast limiter served as a basis. Several improvements have taken the design and functionality of the CL-2 a step further while preserving the euphonic sound of the original.
The Vacuvox U23 has an all class-A vacuum tube audio path, and side-chain path based upon the original circuit of the Rohde & Schwarz U23. These ensure unparalleled performance and provide unrivaled headroom and transparency.
Design and functionality of the Vacuvox U23 compressor limiter
The Vacuvox U23 compressor limiter has been assembled entirely by hand and uses high-quality modern components. The custom-made transformers are faithful recreations of the original, sonically excellent, Rohde & Schwarz transformers. The four audio transformers are made of permalloy with 80% nickel and 20% iron content. The chokes and power supply are made of SiFi. The power transformer is upgraded for better noise performance and stability.
A different layout of the front, a modification of the output gain and the thresholds and 2 extra gain stages are the most significant improvements that have been incorporated in the Vacuvox U23 and U23m.
The Vacuvox U23 is aimed at general tracking and mixing and uses precision potentiometers for input, output, attack, and release.
21-stepped switches for input, output, attack, release, and threshold are used for our mastering version of the U23; the U23m. These extend the use of a pair of U23m compressor limiters to critical stereo applications for many different genres of music. Even jazz and classical material can be mildly compressed with a perfect stereo balance and without sacrificing the sense of dynamics and producing unwanted artifacts.
The various gain structure options from the Pad, Input, Gain and Threshold offer the possibility to create different kind and levels of saturation subtly. Therefore the sound can be varied between transparent, dense and fluid by lowering the threshold, driving the input transformer or driving the tubes.
Specifications of the Vacuvox U23 and U23m compressor limiter
Both the U23 compressor limiter and U23m mastering compressor limiter share the following specifications:
Four custom-made wideband audio transformers with permalloy core [80% nickel and 20% iron content]
Two audio chokes with SiFe core
One power supply transformer with SiFe core [adjustable for 120V and 240V]
One power supply choke with SiFe core
Ceramic Tube sockets throughout
Tube complement of 2x EAF42, 3x EF86, 1x ECC40 and 1x EAA91
Combination of selected and stereo matched NOS tubes of Philips, Valvo, Siemens and/or Telefunken
Simpson Electric metering
Polypropylene film capacitors from Mundorf and Wima throughout
High quality carbon-film and 1% metal-film resistors from Kiwame and Koa Speer throughout
High quality Blore-Edwards and Grayhill switches, fitted with precision components, throughout
Input Pad of 10 dB
3-position tube Gain switch
21-step variable Threshold
De-esser centered around 6kHz as part of the side-chain
Switchable stereo link
Balanced input and balanced output
Input impedance: 10k Ohms
Output impedance: 30 Ohms / 100 Ohms
Minimum load impedance: 300 Ohms
Frequency response: 20 Hz - 22k Hz [+/- 0.5 dB]
Noise: -93 dB [20 Hz - 22k Hz, unweighted, RMS] @ 0dB Unity Gain
Signal to Noise Ratio at +14 dBu = 100 dB [20 Hz - 22k Hz, unweighted, RMS]
Distortion in Amplifier mode: THD < 0.15% @ 1k Hz and 42 dB output gain
Power consumption: 60 Watt [120/240 VAC]
Specific for the Vacuvox U23 compressor limiter are:
Ratio: 6-step rotary switch with ratio's 3:1, 4:1, 5:1, 7:1, 9:1, 12:1
Input: precision full-range attenuator potentiometer
Attack: precision potentiometer for time settings between 1 mS and 50 mS
Release: precision potentiometer for time settings between 0.2 S and 1.2 S
Output: precision full-range attenuator potentiometer
The output level of the output transformer is set in our factory to the maximum level
Specific for the Vacuvox U23m mastering compressor limiter are:
Ratio: 7-step rotary switch with ratio's 2:1, 3:1, 4:1, 5:1, 7:1, 9:1, 12:1
Input: 21-step attenuator switch with 1 dB per step
Attack: 21-step rotary switch with time settings between 1 mS and 50 mS
Release: 21-step rotary switch with time settings between 0.2 S and 1.2 S
Output: 21-step attenuator switch with 2 dB per step for the first 5 steps and 1 dB per step for the last 15 steps
Selectable output level ['normal' or +6 dB] of the output transformer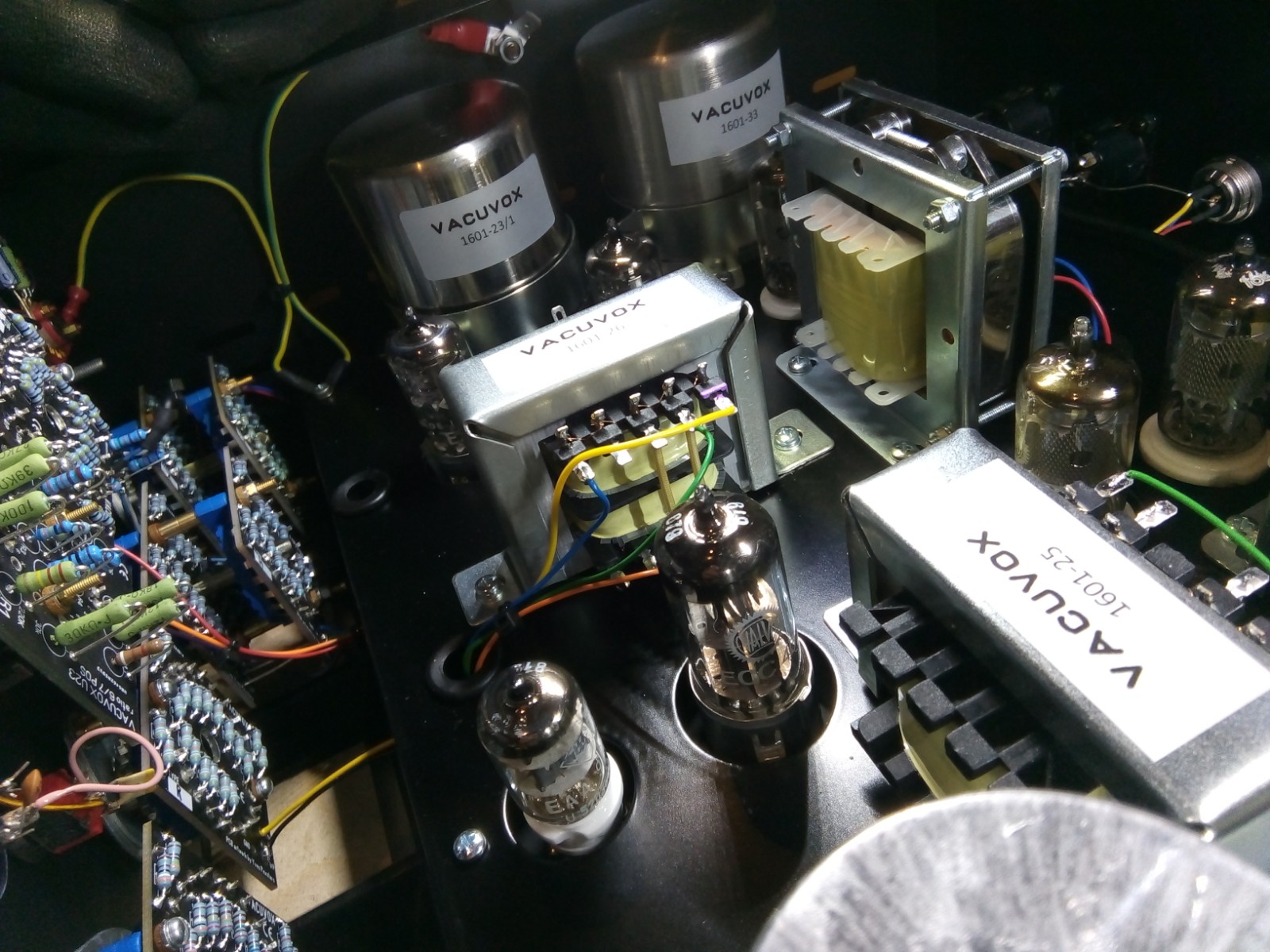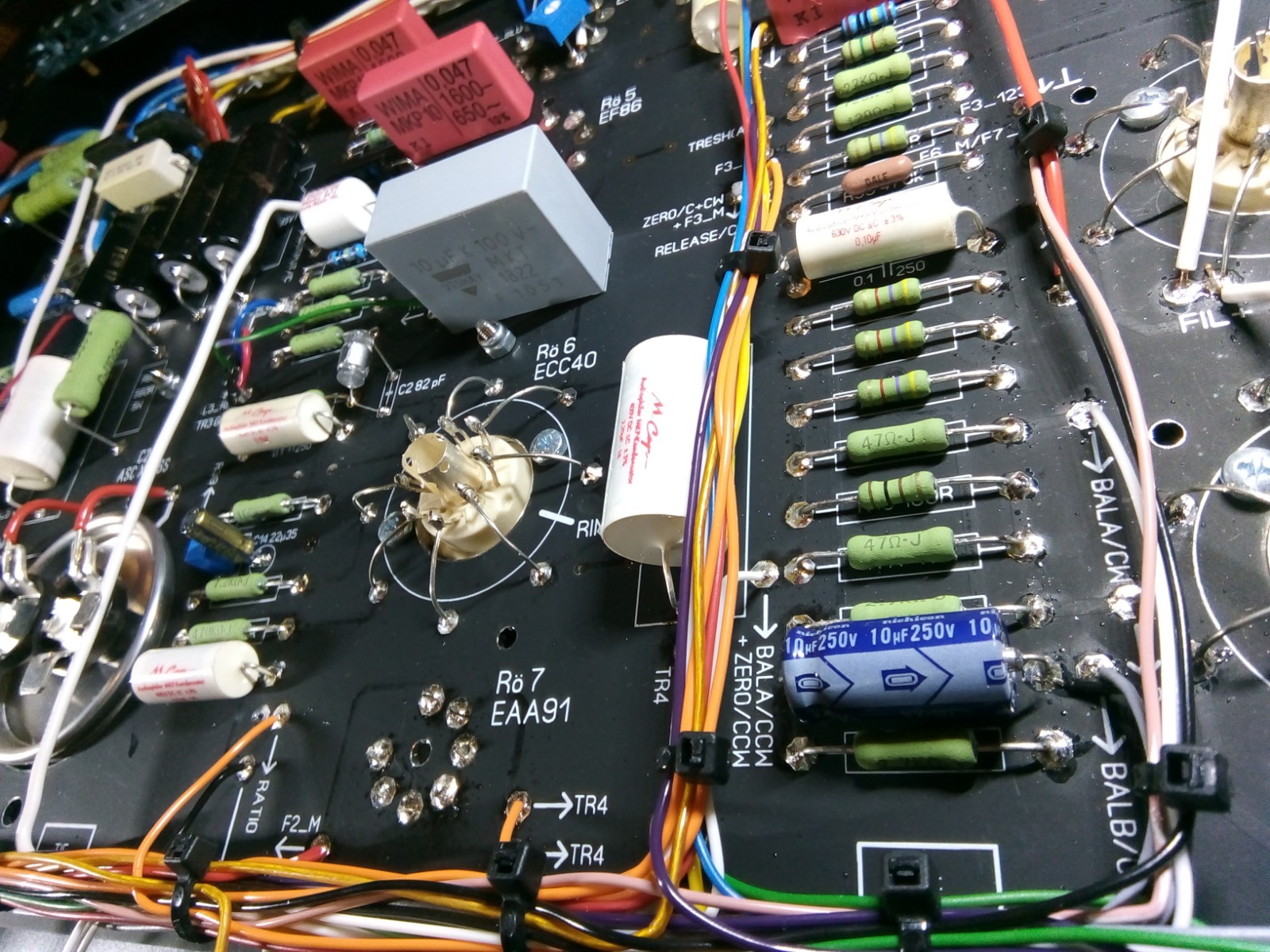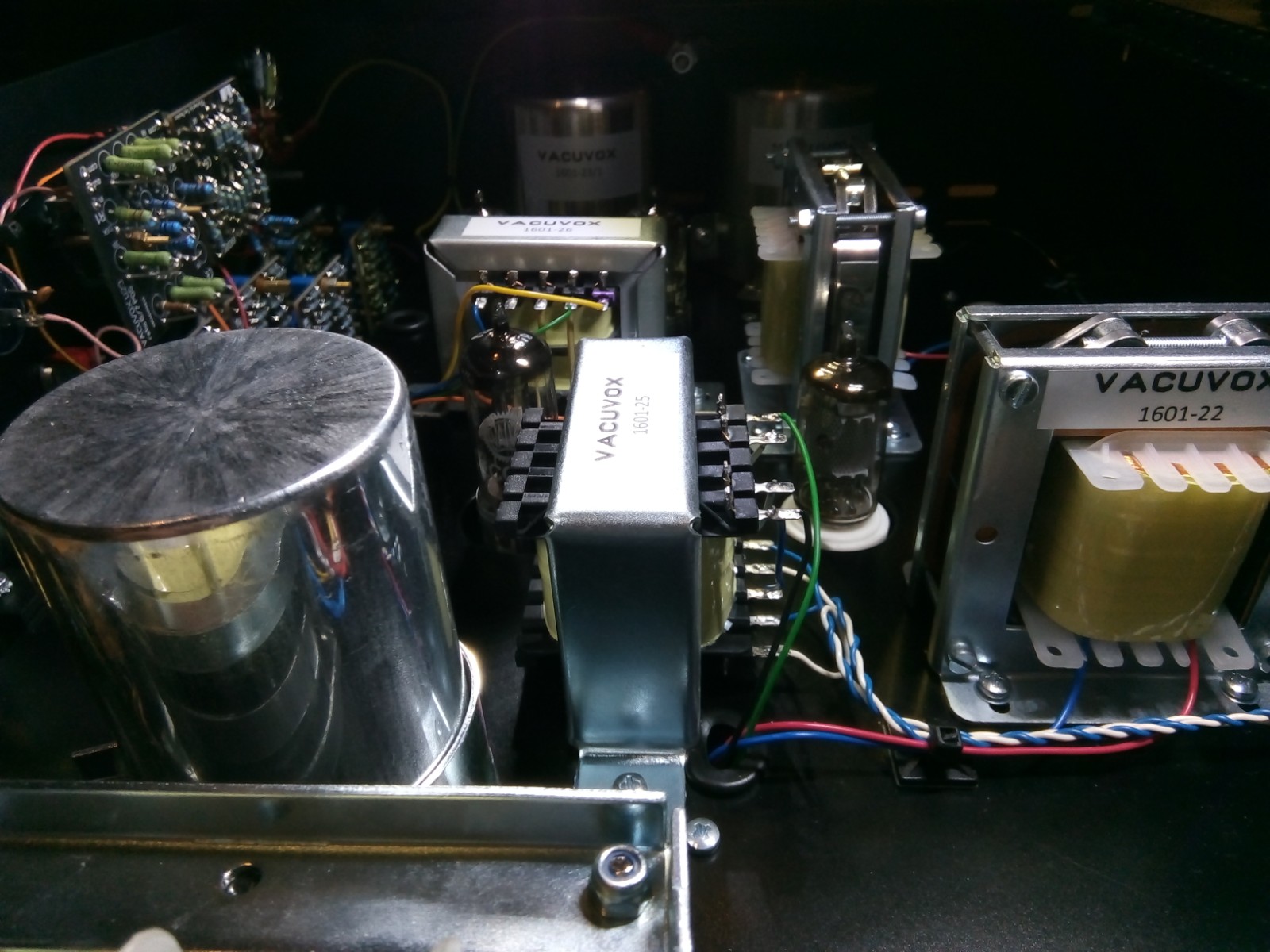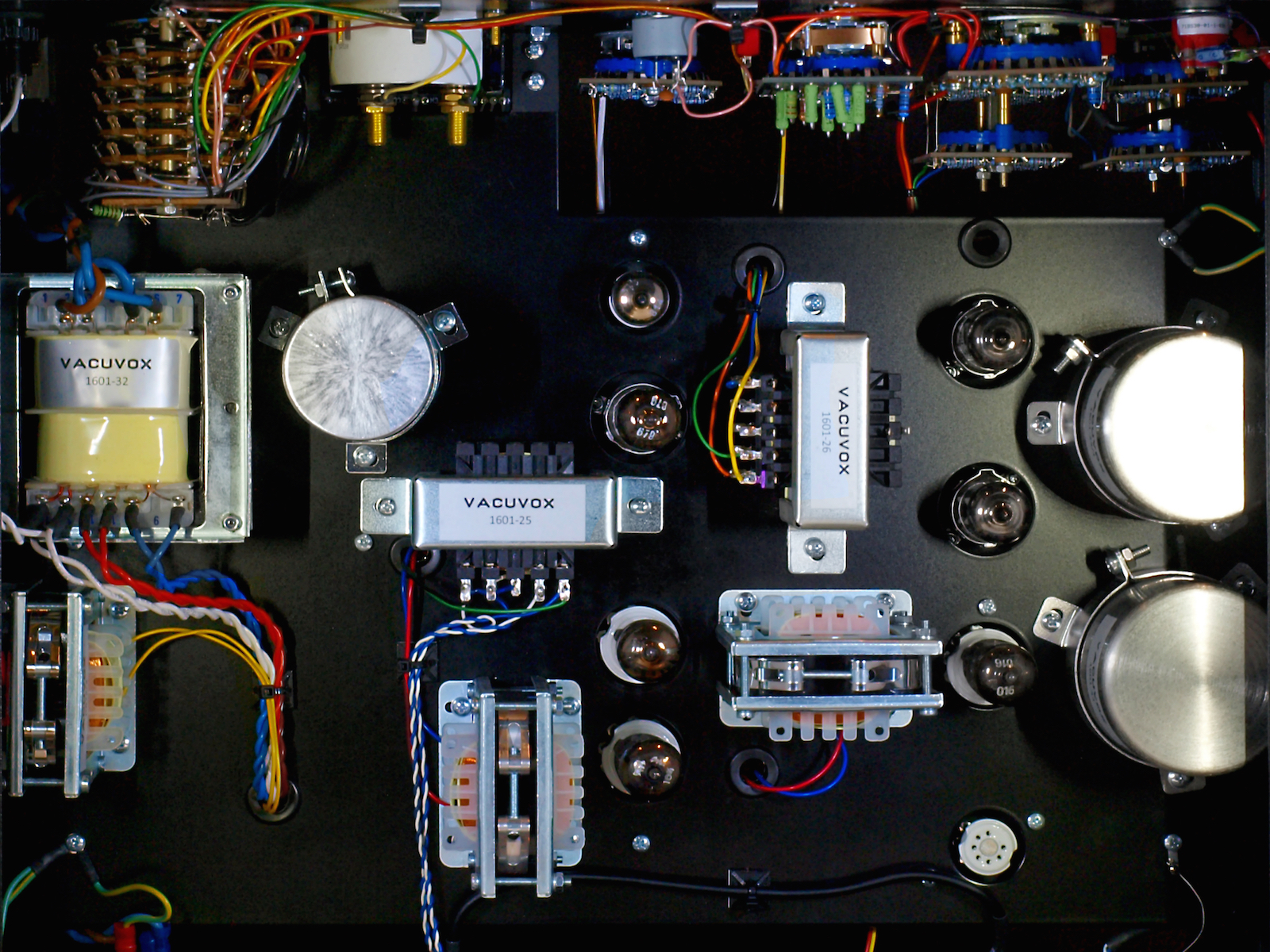 What our customers have to say about the Vacuvox U23 and U23m
"The Vacuvox U23m compressors sound F.A.N.T.A.S.T.I.C. I use them all the time on the mix buss. And on bass and lead vocal I mostly use my two Vacuvox CL2 compressors" – Rafa Sardina
"Oh my god. This thing is INCREDIBLE!! Just preferred it to my Fairchild. The Vacuvox U23 is one of the best compressors I heard for tracking and mixing! What an amazing tool!! – Johann Scheerer / Clouds Hill Studios
"Sound-wise I have never heard something like the Vacuvox U23m. It melts with a very special fluidity in the music, and it can go from pretty neutral to heavily colored with a musical character that I haven't heard before. It does something very special to the low & low end, firm and anchored, and the high gets most expensive sounding sparkles. Keywords; fluidity, density, large, 3dish." – Frédéric Alstadt / Ångström mastering
"... if you're looking for the most appealing vari-mu on the planet - check out these astonishing beauties. They're called Varuvox U23m and are developed after the vintage Rhode und Schwarz ones and sound simply breathtaking ... wow!" – Stephan Zeh / die:mischbatterie
"Having used them for several projects now I am truly blown away at how great these units sound, and how much faster I'm getting the results I want. I think I've saved at least a couple of hours a day by getting to where I want much faster than the previous units I've had. I've owned vari-mu compressors from many other well known brands, and have not been this impressed before. The U23´s makes it much easier to get the music flowing with a nice groove and a have a very relaxing tone and feel. They sound big, euphonic, very 3D, adding separation and dimension to the sound like I haven't heard before. The low end becomes much more together, gluing the kick and bass very nicely. The U23 doesn't sound dark or muddy at all, like some vari-mu's can tend to do. Instead they have a huge, super solid open sound, with tons of headroom, and a very classy sound." – George Tanderø / Tanderø Mastering
"I tried it on a rock song with great dynamic... Man, the U23 blew my head !!!!! Woawwwww. So I went to smoke a cigarette, and came back with fresh ears... still sounding the same 😱😱😱 Perfect snare and voice. Then I tried it on a folk pop song… The mix was great, but with the U23, it became the Beatles !!!! 😱😱😱😱😱😱 The mix between the drum and the voice became so amazing with these compressors. They are incredible !!!!! Congrats, you made a real master piece…" – Mickael Rangaerd / Question the Son